About Us
Owner, Greg Restivo has been at this Eldersburg MD location since 1988 and has grown Restivo Auto Body & Towing to one of the largest collision repair shops in Carroll County, Maryland.
From starting in his garage to a magnificent 13,000 sq foot facility and tow yard, Restivo Auto Body & Towing is the oldest running Body shop in Eldersburg. They have been successfully operating the business for 29 years.
With age comes experience, this means that they have the facility and trained staff to get your vehicle in the shop quick and then back on the road good as new.
Greg and his staff can handle all makes and models, both domestic & foreign. Restivo Auto Body's trained and certified technicians check your vehicle's specifications with the manufacturers to return your vehicle to its pre-crash condition.
Restivo Auto uses water based paints and finishes by nationally recognized PPG to bring back the original look and shine you expect.
Awards & Certifications
Awards
Restivo Auto Body and Towing has been consistently voted "Carroll's Best" year after year by the readers of the Carroll County Times Newspaper.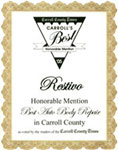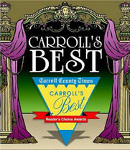 Certifications
I-Car and ASE Certified Technicians will be working on your vehicle.

I-CAR, an international not-for-profit organization, provides the industry's most comprehensive collision repair training, covering virtually every aspect of the repair process, including analyzing the damage, structural repair processes, corrosion protection, steel and aluminum welding, matching your vehicle's paint finish, and checking safety features such as airbag deployment, seatbelts and anti-lock braking systems. I-CAR trained insurance and collision repair professionals share a common understanding of required repair methods, allowing them to work together to properly repair your vehicle. This leads to the most consistent, efficient and high-quality repairs.
Technicians can learn how to properly repair a collision-damaged vehicle one of two ways – through training or by making mistakes. Do you want a collision repair technician "learning" on your vehicle?
ASE Profile

Until the early 1970s, consumers had no way to distinguish between incompetent and competent mechanics. In response to this need, the independent, non-profit National Institute for Automotive Service Excellence (ASE) was established in 1972. ASE's mission is to improve the quality of vehicle repair and service through the testing and certification of repair and service professionals.
At present, about 420,000 professionals hold current certifications. They work in every segment of the automotive service industry: car and truck dealerships, independent garages, fleets, service stations, franchises, and more. Here's how ASE certification works: Prospective candidates register for and take one or more of ASE's 40-plus exams. The tests are grouped into specialties for automobile, medium/heavy truck, truck equipment, school bus, and collision repair technicians as well as engine machinists, alternate fuels technicians, parts specialists, auto service consultants, and collision damage estimators.
Upon passing at least one exam and after providing proof of two years of relevant work experience, the test taker becomes ASE certified. Certification, however, is not for life. To remain certified, those with ASE credentials must be retested every five years.
Paper/Pencil tests are conducted twice a year at over 750 locations around the country and are administered by ACT, known for its academic and occupational testing programs. In addition, selected tests are offered in a computer-based testing (CBT) format at 200 sites for two five-week periods each year. The exams stress knowledge of job-related skills. The tests are no cinch to pass; approximately one out of three test takers fails.
Motorists benefit from ASE certification. It is a valuable yardstick by which to measure the knowledge and skills of individual technicians as well as the commitment to quality of the repair facility employing ASE-Certified professionals. ASE-Certified professionals usually wear blue and white ASE insignia and carry credentials listing their exact areas of expertise (brakes, engine repair, etc.), while employers often display their technicians' credentials in the customer waiting area.
Motorists should look for facilities that display the ASE Blue Seal of Excellence® logo.

Restivo Auto Body & Towing is a current member of the Carroll County Chamber of Commerce